Introduction:
Arched windows bring a unique look and elegance to your home. But deciding on the best curtains for arched windows can be problematic. Because arched windows are unique compared to other sorts of windows. However, with the proper assistance, you can come up with all of the ideas for picking and hanging curtains on arched windows.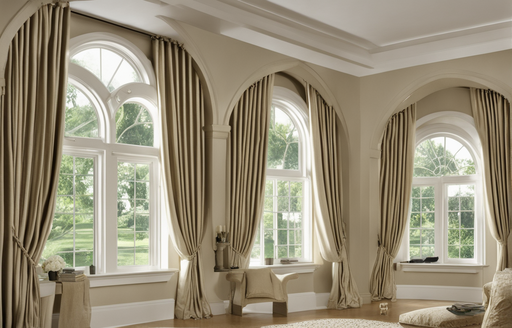 And in this informative blog post, you are going to uncover all about the strategies for choosing and installing curtains for arched windows in rooms. So let's dive with us into the world of arched windows and explore the secrets to making the most of your arched windows.
Table of Contents
Understanding The Arched Windows
In ordinary residences, they have square windows, on which hanging of curtains is a simple process. Arched windows, however, differ slightly from conventional windows. Meanwhile, these windows incorporate a semicircular top portion and their lower portions are square shaped.They goes by the names radius windows or half moon and can be large or short. However, the size, colour, and other design aspects such as privacy glass or grids can all be customized of arched windows.
Due to their distinct elegance and aesthetic worth, arched top windows treatments may be a striking addition to almost any home's design. Moreover, the placement of arched windows allows you to benefit from beautiful views and light patterns. But symmetry of curtains for arched windows is crucial when installing arched windows in a home for the best interior design.
And to do this, you'll need to learn how to identify the best curtains for arched windows and hang them effectively. To be able to gain the knowledge you need, read it through to the finish.
Types Of Curtains For Arched Windows
Presented below is an assortment of drapes you might want to think about for your home's arched windows:
Customized arched curtains
One of the preeminent option of curtains for arched windows are custom made curtains. Your arched windows' curtains can be designed to fit their distinctive shape and specific needs.
Stationary panels are also another preference for you semicircular windows which can frame the windows. Meanwhile, a great approach to enrich your room and beautify your windows is with stationary curtains. They can make your house design look better.
Shutters are another excellent option for arched top window treatments because they may easily suit the window's dimensions. Yet, the shutters in rooms have the benefit of being adjustable, allowing you to regulate sunlight.
Roman shades can provide good coverings for your half moon windows and is a sophisticated option for modern homeowners. These shades are typically put on shorter arched windows allowing for sufficient of natural light to pass in at the top of the arch as the shade drops down across the width of the window.
Swag curtains are another exceptional treatment for arched shaped windows and can hung gracefully in home. To add some elegance and romance to your space, swags are lengths of fabric that are loosely hung and draped over a decorative rod or coiled around a tieback at every edge of a window frame.
Ideas For How To Hang Curtains On Arched ?
Now that you've configured the curtain design and obtained the window measurements, it's time to exploring how to hang curtains on arched windows? Below is a list of guidelines on employing curtains on arched windows flawlessly in several ways:
Keeping an upward arch open
You can use the high arch as an opening when hanging curtains on arched windows. The high arch won't be covered if you use curtains, but you can use them on the lower windows.
Curved rods in arched windows are one option for placing curtains on arched windows. Meanwhile, this will enhance the dimensions of your windows by giving them a distinct appearance.
Place a drape above the arch
Using rods above the windows is one method for installing curtains for arched windows. However, you will be able to use a conventional, straight rod, making installation much easier.
Curtains at start of square windows
Another approach which you can consider is to hang the curtains at the start of the rectangular windows. The arch can be left open to provide light into the space, and because it is so high up.
Use a traversed rod above the windows
One of the simplest ways for hanging ideas of curtains for arched windows is to use a traverse rod. However, you can hang them in an area with a lot of arched windows.
Aside from the above suggestions you can also go with your own idea or strategy which you want for hanging curtains on arched windows.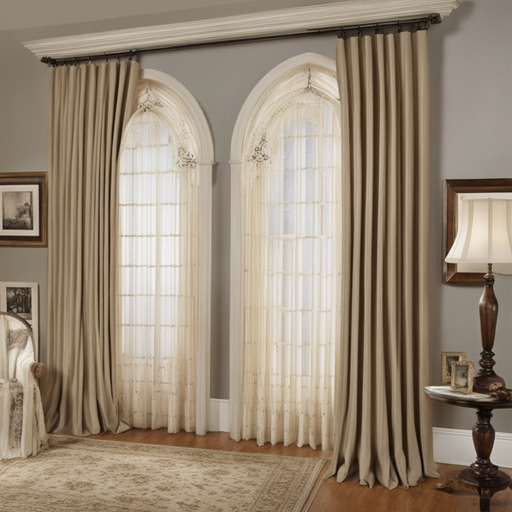 Measurements For Arched Windows For Ideal Appearance
One of the most important steps before installing right curtains for a beautiful appearance of windows at home is measuring arched windows. In the meanwhile, the right measurement will enable you to get drapes that are the ideal size for your windows.
And for satisfactory results you must need a measuring tape, a ladder or someone who might help you in this process. Firstly, you will first gauge the height of the arched windows from the top pest point to the desired end point. Then measure the width of the window at the widest point. In this way you can get exceptional results of curtains for arched windows home.
However, the most crucial thing to remember is that merely flawless measurements will not result in excellent results. You ought to consider about the most effective curtain designs for arched windows as well as the window hardware.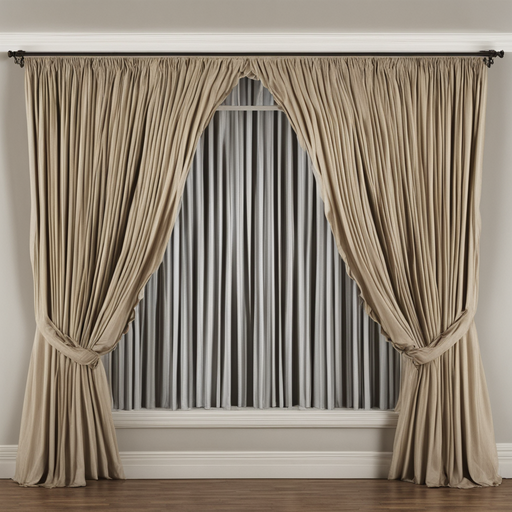 Conclusion
Finally, I am confident that you are aware of the best curtains for arched windows and various methods for hanging them properly. Yes, deciding on curtains and ways to put them on arched windows can be difficult, but with professional guidance or by exploring, you may find it easier. And with the help of our site, you'll be able to create a beautiful, useful, and fashionable design for your arched window.