Introduction
Drop cloth curtains are a versatile and cost-effective way to add a touch of elegance and sophistication to your home decor. These curtains have grown more popular in the realm of do-it-yourself crafts due to their rustic appeal and seamless grace.
What's the best part? You don't have to be a tailor to make best drop cloth curtains that complement your windows. In this article, we will walk you through the process of understanding, selecting, preparing, and hanging drop cloth curtains. So read this till the end!
Table of Contents
What are drop cloths?
Drop cloths are multi-purpose fabric fabrics that are widely used to protect surfaces during home improvement tasks by acting as a spill and splatter barrier. Best drop cloths curtains are renowned for their durability, flexibility, and wide availability. Because curtains add a beautiful touch to your bedrooms and drawing rooms, that's why it is important to choose best drop cloth for curtains. They are often constructed of heavy-duty cotton or canvas. Because of their sturdiness and capacity to survive varied weather conditions, they make a great base for making curtains.
Advantages of using drop cloths for curtains
The canvas drops cloth curtains offer a number of benefits when used as curtain material. And some are given below:
When compared to store-bought curtains, their cost is one of the most important advantages.
Drop cloths are not only more affordable, but you may also alter their size, texture, and style to suit your personal preferences.
Drop cloth curtains are a versatile option for any room because they can be used both indoors and outdoors.
Different types of drop cloths available in the market
A variety of drop cloth alternatives are available on the market to accommodate various curtain projects.
Drop cloths with hems have finished edges, giving them a more professional appearance. Unhemmed drop cloths, on the other hand, provide for a more natural and rustic look. Additionally, drop cloths are available in a variety of weights and textures, so you can select the ideal combination for your preferred curtain style.
Choosing the Best Drop Cloth For Making Curtains
It is critical to correctly measure your window size to guarantee that your drop cloth curtains fit perfectly. Begin by determining the width and length of your window, taking into account any desired overhang or draping. Consider if you want your curtains to extend slightly past the window frame or all the way to the floor for an elegant look. These measurements will help you choose the correct drop cloth size for your project.
When selecting a best drop cloth for curtains, consider both the weight and texture that will best fit your needs. Thicker drop cloths provide more seclusion by filtering out more sunlight. Choose a lighter-weight drop cloth for a more sheer and airier look. Consider the texture of the cloth as well, as some may have a smoother or rougher feel. This option will help you achieve the appropriate drape and appearance for your curtains.
Before beginning of using drop cloth for curtains project, carefully evaluate your window area. Take note of any obstructions that may affect the positioning or measurements of your curtains, such as window frames, molding, or architectural features. Consider the placement of your curtain rod and hardware to ensure the curtains hang properly and match your chosen style.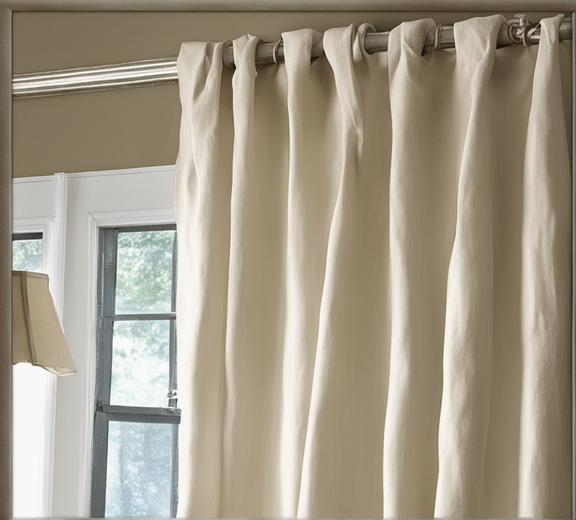 Preparing the Drop Cloth For Curtains
Washing and ironing the drop cloth, if necessary
It is critical to properly prepare your drop cloth for curtains before you begin working with it. You may need to wash and iron the fabric depending on its condition to produce a clean and smooth surface. Shake or brush the drop cloth to remove any dirt, dust, or debris. Follow the manufacturer's washing and ironing recommendations, making sure to use the proper settings to avoid harming the fabric.
Pre-shrinking techniques for seamless curtains
If you want to keep your curtains from shrinking or distorting after they're finished, pre-shrink the drop cloth fabric. This step is particularly crucial if you intend to wash or dry your curtains in the future. Consider washing your drop cloth in warm water on a soft cycle and drying it on low heat to pre-shrink it. This will assist you minimize any unexpected shrinkage and keep your curtains smooth and precisely sized.
Removing unwanted tags and labels
Remove any extraneous tags or labels from your drop cloth to produce a clean and polished appearance. Cut or remove tags with care, using a seam ripper or sharp scissors to avoid damaging the cloth. To keep a seamless and professional appearance for your drop cloth curtains, ensure that all remnants of the tags are totally eliminated.
Hanging the Drop Cloth Curtains
When it comes to how do you make drop cloth curtains hanging possible, there are several rod installations options. Tension rods provide a convenient and simple option because they are simply adjustable and do not require any drilling or additional hardware. Traditional curtain rods, on the other hand, can be employed for a more permanent and stable installation. Make certain that the option you choose can easily sustain the weight and length of your best drop cloth curtains.
Consider using drop cloth curtain clips, rings, or grommets to make hanging and adjusting your curtains easier. These accessories make it simple to attach the curtains to the rod or create a pleated look. Select the correct size and type of attachment for your curtain rod and drop cloth fabric. To prevent slippage or damage, ensure that the clips, rings, or grommets are tightly fastened to the drop cloth.
After you've hung your no sew drop cloth curtains, take a step back and evaluate their overall appearance. Make sure the curtains are correctly placed and equally spaced on the rod. Make a note of any locations that may need to be tweaked to get the desired draping effect. Gently pull or arrange the fabric of the curtains to produce a wonderfully tailored aesthetic that complements your area.
Conclusion
In conclusion, making your own best diy drop cloth curtains is an easy, economical method to upgrade the look of your house. These curtains may offer beauty and charm to any space because they are fashioned from strong, easily accessible drop cloths. Making no sew drop cloth curtains is a satisfying project, regardless of your level of experience with DIY or your level of craftiness.