Introduction
Do you think your space is dull and uninspiring? Or the room's interior isn't all that interesting. Then hanging curtains behind bed could be a really intriguing design choice for your room's improved interior. This idea relies on the notion of adding curtains to your area as a decor element in addition to merely covering windows. There are, however, a variety of practical methods for hanging curtains behind the bed. No matter what approach you employ for bedroom curtain design behind the bed it will give your room an appealing look.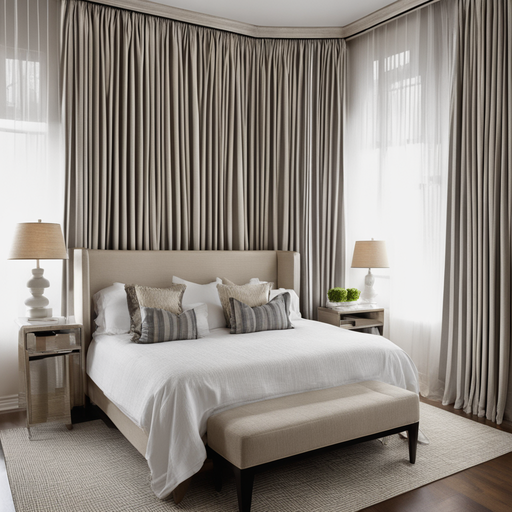 Meanwhile, you don't need  to ponder so deeply about the idea of curtains behind the bed. Because in this blog post, our focus will be on a comprehensive analysis of the best curtain designs behind the bed. So continue reading until you reach the end and give your room a new look.
Table of Contents
Benefits Of Wall Curtains Behind Bed
There are numerous advantages of installing curtains behind the bed, a few of which are listed below:
Among the most significant benefit of bedroom curtains behind bed is that it will boost the overall visual appeal of the space. Meanwhile, you'll have a more cozy and unique room design that will make you feel wonderful when you walk in.
Traditional headboards behind beds typically take up more room and occupy a larger area than usual. However, the curtain behind your bed will provide you with the most space around the back of the bed, which will help you.
The bedroom windows allow light to enter the room early in the morning, disrupting the sleep rhythm. However, if you put curtains behind your bed back, you will notice that less light will reach your room. As a result, you will be able to sleep peacefully and soundly.
Styles Of Displaying Curtains Behind Bed
How to hang curtains behind bed? It seems that there are undoubtedly a variety of curtain behind bed ideas. It doesn't matter either you have arched windows, round or square windows all these designs are perfect. Hence, the most popular designs for windows behind bed are presented below:
Minimalist elegance style curtains
The monochromatic curtain should be your top choice if you are a person who values simplicity in life and wants everything to be basic yet exquisite. Because curtains with a light shade and a straightforward design can improve the appearance of your room.
If you desire to give your room a dreamy and romantic look then canopy style curtains designs is the best preference for you. These curtains can be hung from ceilings by creating a canopy by creating canopy design around your bed.. Meanwhile, there is no doubt that this look will give your room a luxurious or intimate look.
Layered sheer curtains style
Every bedroom should have sheer curtains with thick drapes since it improves the mood of the space. Meanwhile, the layered heavy drapes will complement the thin sheer curtains, will not allow the light to enter the room. However, you must select a color palette of these drapes that complements the design of your bedroom.
Swag or valances curtains style
If you want a classic and sophisticated interior for your space then swag or valance curtains are the best idea of wall curtains behind bed. Depending on the style you want, you can find these short curtains in a number of different materials or colors that normally hang just above the headboard.
You can also think about using chic curtains behind the bed in your room. Because chic are unique from all the other designs of curtains for windows behind bed.  Additionally, its extraordinary adaptability will work with different bedroom styles. Chic curtains can be styled in a variety of ways, though.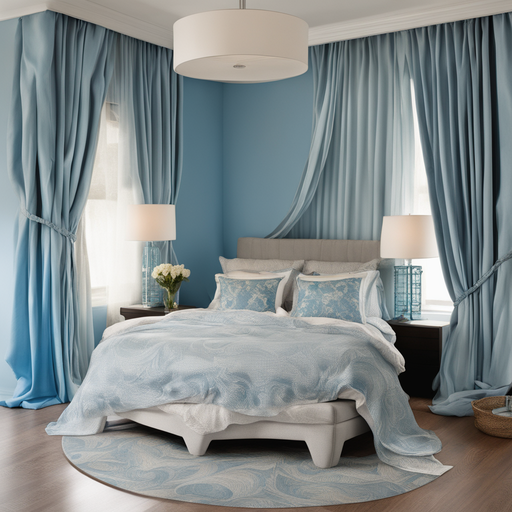 Tips For Effective Hanging Of Wall Curtains Behind Bed
Since curtains contribute significantly to the bedroom's aesthetic appeal, they must be installed properly. Here are some suggestions about how to hang curtains efficiently behind a bed for this purpose:
First and foremost, you must take accurate measurements before installing any type of curtain design behind the wall of your bed. You must take into account how high an wide you want your curtains to be.
The second step in the appropriate installation of curtains is to choose the right hardware for your curtains. You must select a hardware that supports the weight of the drapes behind your bed.
Choosing the right fabric for your room is the most crucial step for any curtain installation. Because the right fabric will provide your curtains luxurious look. But you must install those curtains that suits your bedroom design.
The drapes behind the bed need to be balanced properly with the bed. Make sure the wall curtains behind the bed don't extend past the dimensions of the bed. Because the curtains must also be the right width for a neat and tidy appearance.
The most crucial step for an excellent appearance in any space is to maintain and clean the curtains. You should wash your curtains frequently in the interim, then reinstall them properly.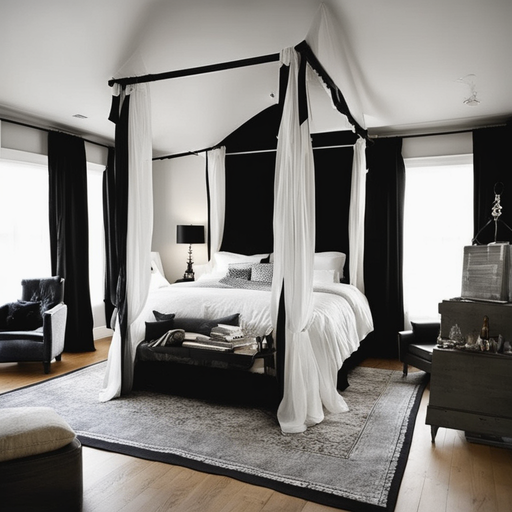 Conclusion
Last but not least, I'm hoping for the best and assuming that this site has helped you come up with the greatest suggestions for hanging curtains behind your bed. You can change the appearance of your room and do away with the conventional room designs by hanging curtains behind your bed.  While there are many various bedroom curtain designs, pick the one that best fits your space, then install it.